Robotic Rehabilitation Pack:
SIFREHABSET-1.1
Robotic Rehabilitation Pack: SIFREHABSET-1.1 is a package of rehabilitation items suitable for patients with hand dysfunction caused by stroke, cerebral hemorrhage, stroke hemiplegia, brain injury, and poor circulation. It is an innovative product for hand function and leg rehabilitation.
It combines flexible robotic technology and neuroscience theory, using flexible pneumatic bionic muscles as a power source, which can promote finger flexion and extension, reduce muscle tension, promote blood circulation, relieve edema, and prevent muscle atrophy. At the same time, it can help users relearn through an exercise from the three levels of nerves, brain, and muscles, and rebuild brain nerves to control the hands' movement. Furthermore, the air compression recovery boot improves the appearance of cellulite; Improved Circulation, reduces stress, manages pain, and it's beneficial for people who experience poor circulation issues.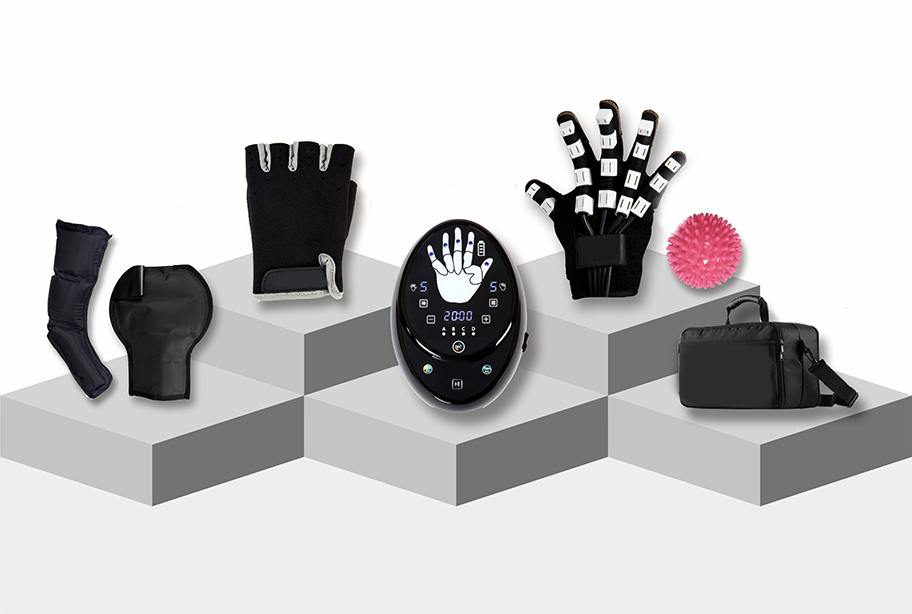 Robotic Rehabilitation Gloves Functions: 
Studies have shown that single-finger training can significantly improve the rehabilitation effect, and more effective acupuncture for functional rehabilitation of damaged fingers is a new hope for hand functional rehabilitation. During use, the patient can also set the flexion and extension time separately according to the level of muscle tension to help the fingers flexion and extension.
Hand airwave massage therapy:
is another characteristic function of SIFREHABSET-1.1, which plays an auxiliary role in hand rehabilitation training. Before training, massaging for a few minutes can promote the circulation of blood and lymphatic tissues, accelerate the return of blood tissues, clear blocked blood vessels, promote blood circulation, and activate vascular cells; after training, it can enhance the vitality of cells, the absorption of body tissues, and promote the heart and brain blood vessels, so as to relieve soreness.
Passive Flexion And Extension Training:
In passive mode, the affected hand wears a recovery (rehabilitation) glove. Under the drive of SIFREHABSET-1.1, do flexion and extension training for 20 minutes each time, 2 to 4 times a day.
Robotic Rehabilitation pack: SIFREHABSET-1.1,  the patient's affected hand grasps the water bottle (or ball or others) on the table in front of him close to his mouth and puts it back in place; Or close to another cup to pouring water and put it back in place. Or holding the door handle trying to rotate the door handle and pull the door open, In the scene of daily home life, do action training 20 minutes each time, 2 to 4 times a day.
Mirror Therapy for hand function rehabilitation
The healthy hand drives the affected hand, the hands move synchronously, activating the mirror neuron. The normal hand motor nerve pathway was copied to the affected hand, and promoted the recovery of brain autonomy.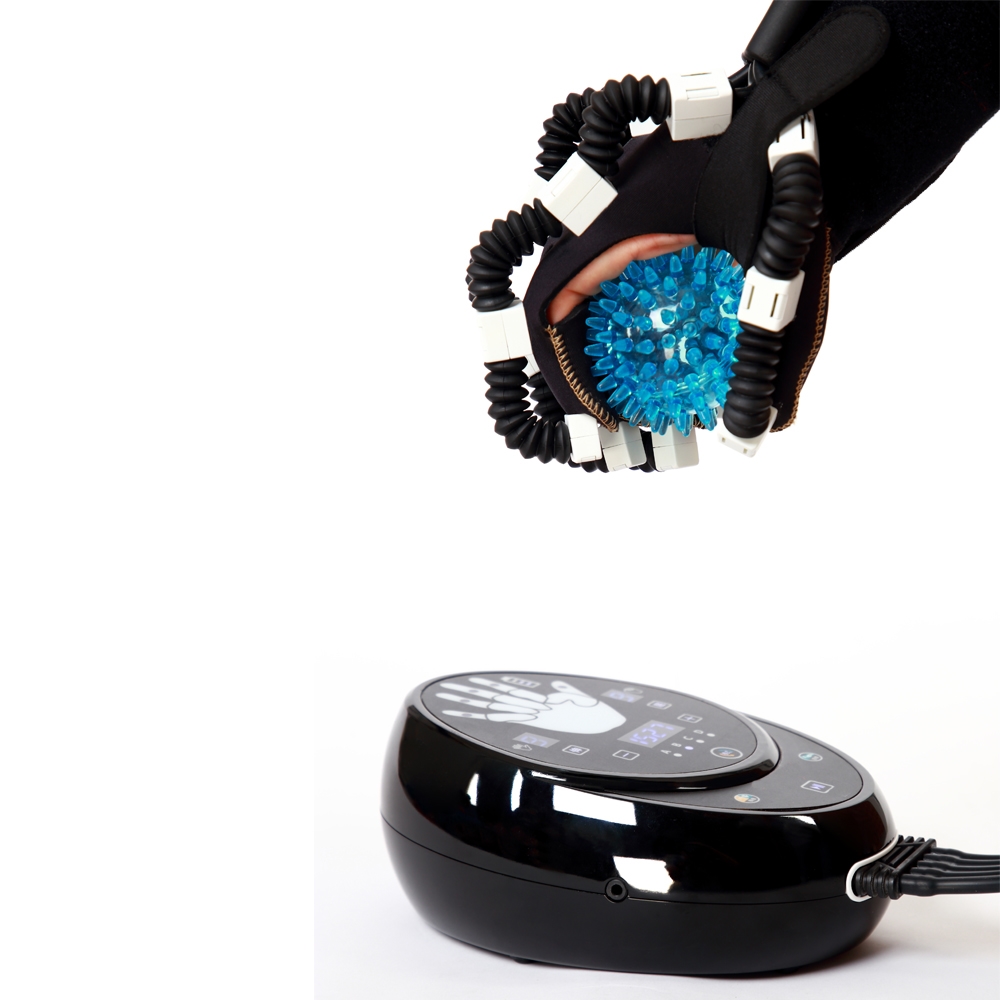 SIFREHABSET-1.1 has 4 training exercise modes:  alternatives (A-D), multifunctional Legs massage, hand palm massage, and Finger Grip /Release training exercise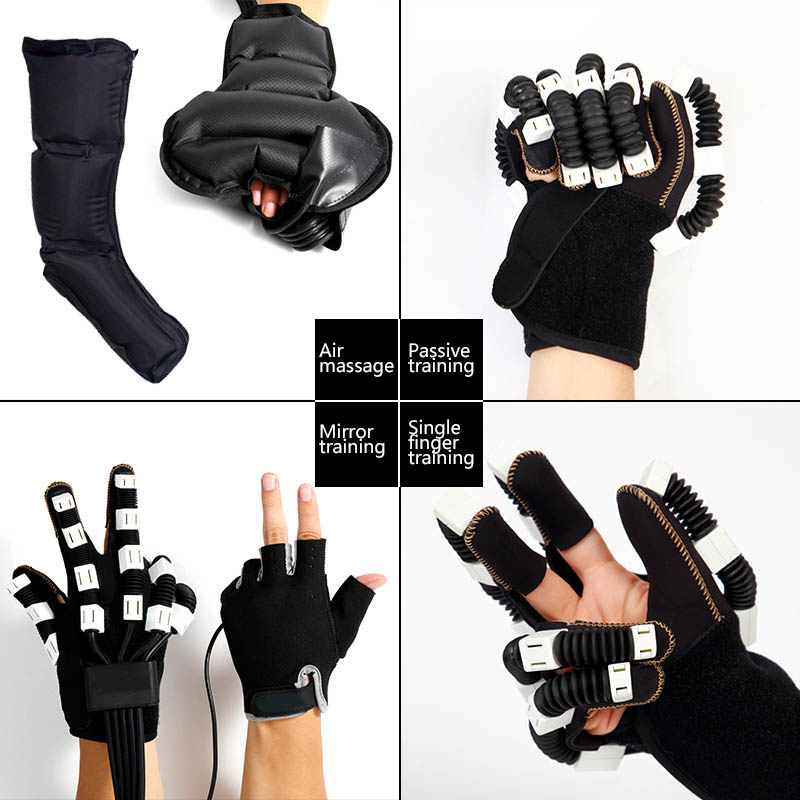 Robotic Rehabilitation Pack: SIFREHABSET-1.1 Advantages
Half-cut design enables patients to wear one button to start independently, easy to operate, 8 types of glove design, to meet the needs of different patients. Combined with flexible robot technology and neuroscience, it can help patients relieve hand spasm and stiffness, and promote patients' motor relearning.
High score soft gloves, a variety of flexible polymer materials, three-dimensional cutting, fitting hands, artificial pneumatic flexible drive, easy and comfortable. Weight no more than 200g, wearable design, more suitable for patients.
Patients can recover at home by themselves, save the cost of a rehabilitation hospital and accompanying care, independently complete the daily rehabilitation training plan, and carry out functional task-oriented training, including daily activity training such as stretching, machine holding, etc,
Using air pressure as a driving force, automatic finger grasping and stretching is the rehabilitation treatment equipment for finger spasms, paralysis, and other symptoms. It can reduce the muscle tension of the hand, relieve edema and stiffness, accelerate the rehabilitation process of hand function, and promote the recovery of cerebral nerve injury, so as to achieve the goal of rehabilitation.
The polymer pneumatic flexible material is adjustable and wearable can start the artificial flexible drive with flexibility, especially adopts the semi-open wrapping method, can buffer and protect the metacarpophalangeal joint and the interprocedural joint, and can gently promote the sensory stimulation of the hand after stroke through the pneumatic pump, so as to complete the flexion and extension of the fingers.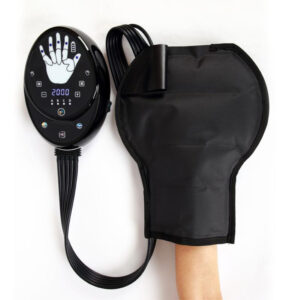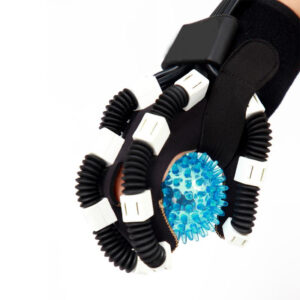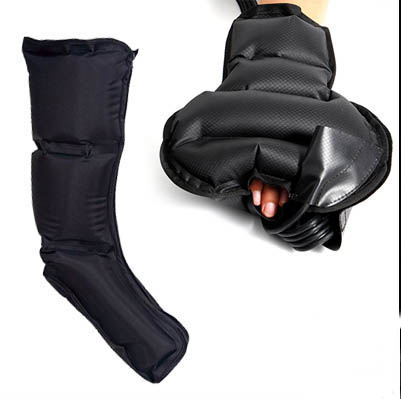 Inside The box: 
Robotic Rehabilitation Gloves
Mirror glove 
Console
Recovery Ball
Air pressure massager ( hand + Massage Boot )
12-month warranty
× 5 Trees planted for one purchased item 
One Tree Planted is on a mission to reforest our planet and provide education, awareness, and engagement on the importance of trees in our ecosystem. It also has a social impact encouraging and giving incentives to low-income people to plant Trees in their Areas.
Reducing carbon footprint: A mature tree absorbs an average of 48 lbs of CO2 per year.
We give you the chance to participate and be part of this noble project. We plant Trees for you for each product you purchase from SIFSOF.
Let's re-Green our Earth together