Portable Stroke Rehabilitation Robotic Gloves: SIFREHAB-1.0
The Portable Stroke Rehabilitation Robotic Gloves: SIFREHAB-1.0 helps patients who are not able to attend rehabilitation center sessions to do their own rehabilitative training safely and independently
Size: 105*95*60mm
Weight: 450g
Rated charging voltage: 5V
Time setting: 0-20min
Training Difficulty: 1-9
Portable Stroke Rehabilitation Robotic Gloves: SIFREHAB-1.0 Advantages:
The robot gloves are a cost-effective home-based rehab program for stroke survivors, easy to use, help patients to exercise anytime, anywhere. 
Helps patients in their hand rehabilitation through exercise and regain their ability to take care of themselves in daily life.
The robot gloves ignite the simultaneous movement of both hands activates mirror neurons to replicate the normal hand nerve pathways to the affected hand, to promote autonomic recovery of the brain.
Polymer soft gloves, a variety of flexible polymer materials, three-dimensional cutting, fit the human hand, manual pneumatic flexible drive, easy and convenient.
The robot gloves are used for hand trauma treatment, cerebral palsy rehabilitation, cerebral ischemia, cerebral hemorrhage, brain injury, neuromuscular rehabilitation, hemiplegia rehabilitation, musculoskeletal rehabilitation, and occupational therapy.
Portable Stroke Rehabilitation Robotic Gloves SIFREHAB-1.0 Training Modes: 
The mirror therapy feature in our rehabilitation robotic glove entails that the mirror glove is worn on the non-affected hand, which contains the force and flex sensors. The robot gloves are used to measure the gripping force and bending angle of each finger joint for motion detection. The robot gloves, driven by micro-motors, provide the affected hand with an assisted driving force to perform training tasks, and alleviate post-stroke numbness.
Activities of daily living (ADL) training:
Activities of daily living (ADL) are also called self-help or self-care activities. These activities can include everyday tasks such as dressing, self-feeding, bathing, laundry, and/or meal preparation. The SIFROBOT-1.0 will detect weak conscious hand activity then boost it to complete the intended hand movement. This means that the robot gloves promote the hand's full recovery from stroke. 
Portable Stroke Rehabilitation Robotic Gloves: SIFREHAB-1.0 Applications:
The robot gloves crush injuries and other hand trauma.
Tendon and/or ligament tears and other tendon injuries.
Peripheral nerve disorders and other neurological conditions.
Fractures and dislocations.
Arthritis or tendonitis.
Carpal tunnel syndrome.
Dupuytren's contracture.
Post-stroke rehabilitation..etc.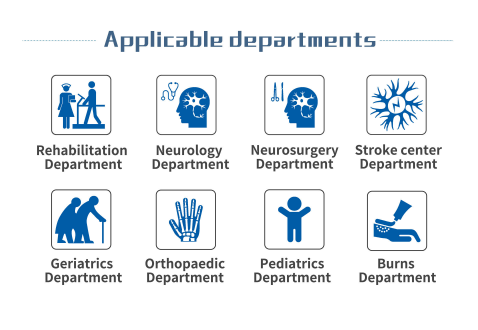 SIFREHAB-1.0 Size Details:
SIFREHAB-1.0 Rehabilitation Process:
The process of rehabilitation Using SIFREHAB-1.0 enables individuals of all ages to achieve the highest level of function, independence and restore optimal health of the hands and fingers.
Within 3 months of constant training it will limit the extent of the injury, reduce the damage and in the long run it will fulfill the prevention, correction and the elimination of the disability.
The rehabilitation process is often quite difficult but it's feasible and its success depends on confidence , patience, scientific rehabilitation, trust and perseverance.
 
× 10 Trees planted for one purchased item 
One Tree Planted is on a mission to reforest our planet and provide education, awareness, and engagement on the importance of trees in our ecosystem. It also has a social impact encouraging and giving incentives to low-income people to plant Trees in their Area.
Reducing carbon footprint: A mature tree absorbs an average of 48 lbs of CO2 per year.
We give you the chance to participate and be part of this noble project. We plant Trees for you for each product you purchase from SIFSOF.
Let's re-Green our Earth together 🙂  



 …
Related Posts:
Post-Stroke Numbness Mirror-TherapyThe Impact Of Stroke On Daily Living ActivitiesMirror Therapy Rehabilitation